TL;DR
Who doesn't love a good surprise? Even more so if the surprise is a super rare non-fungible token (NFT). An NFT mystery box is similar to a physical mystery box. As the name suggests, the box contains a random NFT from a specific NFT collection. In most cases, an NFT mystery box will feature NFTs with different rarity levels. If you are lucky, you can get a super rare NFT that sells for thousands or millions of dollars. If not, you will likely get a common NFT that your fellow mystery box owners also have in their collection.
NFT mystery boxes can be purchased from NFT marketplaces like the Binance NFT Marketplace. You can open the mystery box whenever you want or try to sell it without opening for a profit.
What Is an NFT Mystery Box?
A mystery box is a box that contains a special random product. Buyers are willing to pay a fixed price without knowing the content until they open the box.
You might wonder why anyone would purchase such a product when they don't know what they're getting. Much like opening a gift, they are hoping to receive special or rare products at a relatively small price. The expectation and curiosity attract buyers of all ages.
You can also think of mystery boxes as an upgraded version of surprise chocolate eggs, a fun treat you've likely had in your childhood. Typically, these chocolate eggs contain a toy or another surprise in a plastic capsule. Before you crack it open, you have no idea what you will be getting. You may or may not like the toy, but it's the element of surprise that makes us excited about it. Mystery boxes work in a similar way, except that you don't get that yummy chocolate shell, and the quantity of the boxes is usually limited.
The mystery box buzz has emerged into the cryptocurrency space amidst the boom of the NFT market in early 2021. Many companies are now issuing limited-edition mystery boxes that contain NFTs of different rarity levels to surprise buyers.
Currently, there are thousands of NFT mystery box series on the market. When you buy a mystery box from a collection, you can get a sense of what you might get by reading the box description. In some cases, you will also be able to see the odds of getting each type of NFT.
NFT mystery boxes hold more than just artworks. Some blockchain games, such as Axie Infinity give players rare in-game items in mystery boxes. These scarce NFT assets can be characters, virtual lands, skins, or other collectibles.
The NFT inside the box might surprise you in both ways. While the more common NFTs could quickly lose value after the initial sale, the rare NFTs can value way beyond the price tag, as long as there is demand. If you are lucky enough to reveal these highly sought-after mystery box NFTs, you can put them for sale on NFT marketplaces or auction houses.
As of November 2021, the world's most expensive NFT is the artwork "Everydays: The First 5,000 Days" by Beeple. The NFT consists of a collage of 5,000 images created daily since 2007. It was sold at Christie's for over $69.3 million, setting a new milestone for the NFT ecosystem.
Where Can I Get an NFT Mystery Box?
There are thousands of NFT collections in the market, and you can purchase them from different NFT marketplaces. With new NFT series releasing at full speed, the best way to find new mystery boxes is from the top NFT marketplaces, including the Binance NFT Marketplace, OpenSea, Rarible, and SuperRare.
Some NFT platforms collaborate with renowned brands to release mystery boxes regularly. For example, Vogue Singapore launched NFT mystery boxes that contain artworks of sunrises around the world.
To buy an NFT mystery box on Binance, you will need an account. If you already have an account, you can use it to buy NFT mystery boxes without having to create a new one.
To buy on other marketplaces or to store your NFTs, you'll need a crypto wallet on the BNB Smart Chain (BSC) or Ethereum networks, depending on the platform you are using. MetaMask, Trust Wallet, or Binance Wallet are all good choices. Purchasing NFT mystery boxes usually requires ETH, BNB, or BUSD.
How to Buy an NFT Mystery Box on Binance
1. Go to the Binance NFT Marketplace and log in to your account. If you don't have a Binance account, click [Register] to create one.
2. Click [Explore] on the top navigation bar. Then click [Mystery Box] to go to the Mystery Box Market.
3. Select the [Unopened] filter to find unopened NFT Mystery Boxes you like.
4. Click on an NFT to enter the product page.
5. Here you can find more details about the NFT Mystery Box, including the description, price, contract address, and other information.
6. For example, you can click [Series Content] to check the NFT rarity ranking, i.e., the probability of getting a "super super rare" NFT from the box.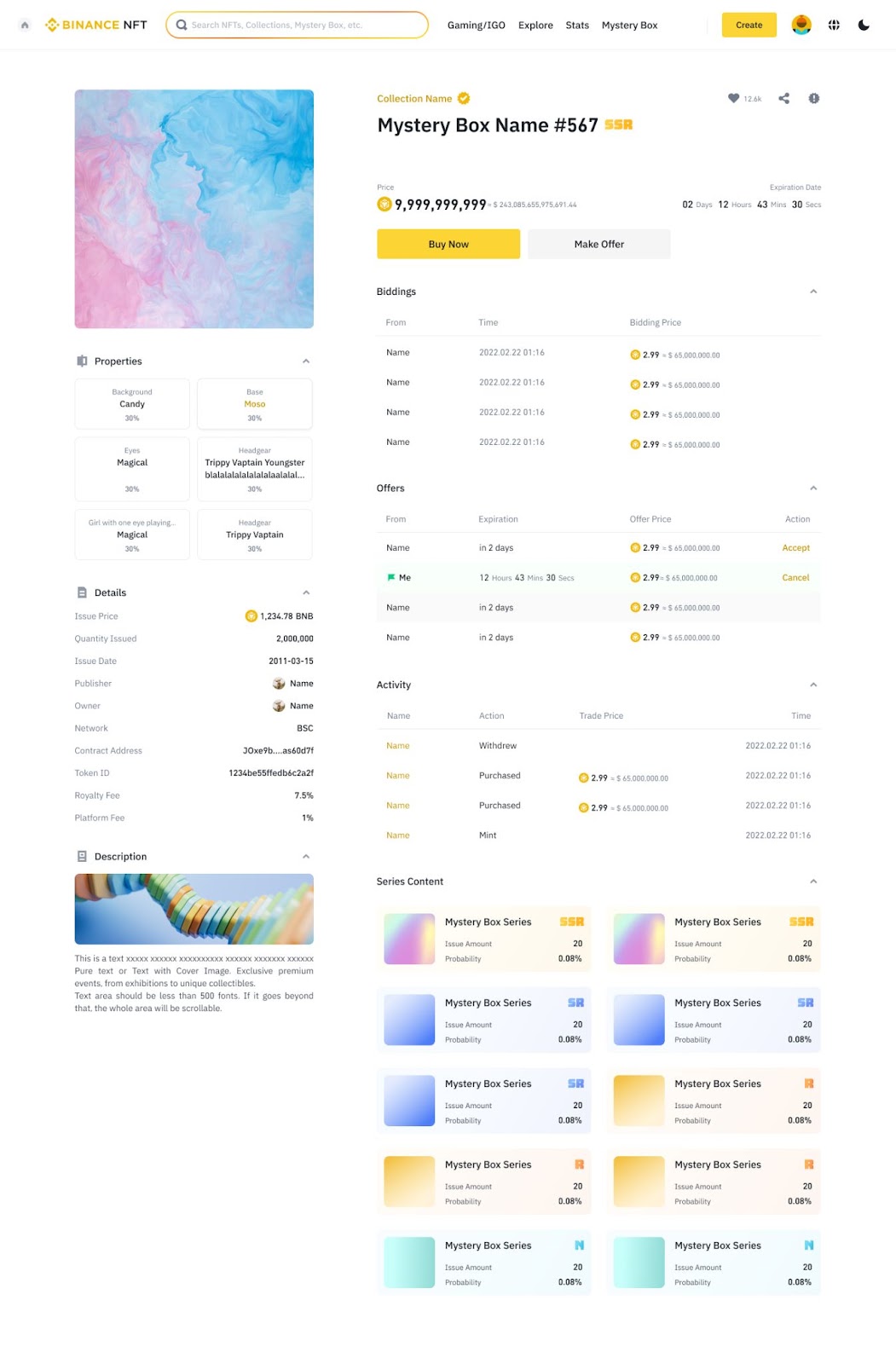 7. Click [Buy Now] to buy the mystery box. A pop-up should appear with the order details. Click [Confirm] to finalize your purchase.
NFT Mystery Box Auction Sale
If the NFT mystery box you want to buy is an auction sale, you will need to make a bid, and the user with the highest bid at the end of the auction will get the box. You can check the auction end time next to the bid price. 
1. To bid, click [Place a Bid]. In some cases, you may also find a [Buyout price], which means that you can pay for this price to buy the mystery box instantly.
2. Next, you can place your bid. Your bid must be higher than the previous bid by at least the minimum markup. When you're happy with the amount, click [Place a Bid] to confirm.
How to Open an NFT Mystery Box
After you purchase the NFT Mystery Box, it will be stored in [Profile] - [Collected NFTs] - [Mystery Boxes]. 
1. Click on the mystery box to go to the product page.
2. Next, click on [Click to reveal] to open.

3. Click [Open box] on the pop-up.
4. You will then see the NFT artwork. It will be stored in [Profile] - [Collected NFTs] - [Mystery Boxes].
How to Sell an NFT Mystery Box on Binance
You can choose to sell the NFT mystery boxes unopened or the NFTs you got from them on the Binance NFT Marketplace. 
1. Click [List NFT] on the product page.
2. You will be redirected to the listing page. For an Auction sale, choose [Highest Bid]. In the [Minimum Bid] field, you can input the starting price for your listing. You can also include a [Buy-out Price] for direct purchase. If you would like to have an instant fixed price without bidding, select [Set Price].
3. You will then see a [Price] field to choose how much you want to sell the NFT. You can choose to receive ETH, BNB, or BUSD as payment.
4. Then, choose an end date for your sale. This date can be from 12 hours to 7 days from the time of listing. Once you're happy with the terms of your listing, click [Submit].
How to Withdraw an NFT From Binance
Currently, the Binance NFT Marketplace does not support the withdrawal of NFT mystery boxes. Instead, you need to open the mystery box first, and then you can withdraw the NFT. 
1. After opening the mystery box, go to  [Profile] - [Collected NFTs] - [Mystery Boxes] and click on the NFT you would like to withdraw. Then, click [Withdraw] on the NFT page.
2. Select the wallet network you're withdrawing to, and paste the [Destination Wallet Address]. If you haven't connected any wallet, click [Add a Wallet]. You will be redirected to the [Connect Wallet] page.
3. Please confirm that the blockchain you're transferring to is compatible, or you might lose the NFT.
Closing Thoughts
With the NFT trading volume continuing to surge, NFT mystery boxes can be a great way to start getting involved with NFTs. The element of surprise, and the chance to get rare NFT artworks at a lower cost, are what keep the NFT mystery boxes hype going.

Disclaimer and Risk Warning: This content is presented to you on an "as is" basis for general information and educational purposes only, without representation or warranty of any kind. It should not be construed as financial, legal or other professional advice, nor is it intended to recommend the purchase of any specific product or service. You should seek your own advice from appropriate professional advisors. Where the article is contributed by a third party contributor, please note that those views expressed belong to the third party contributor, and do not necessarily reflect those of Binance Academy. Please read our full disclaimer here for further details. Digital asset prices can be volatile. The value of your investment may go down or up and you may not get back the amount invested. You are solely responsible for your investment decisions and Binance Academy is not liable for any losses you may incur. This material should not be construed as financial, legal or other professional advice. For more information, see our Terms of Use and Risk Warning.