TL;DR
NFT metaverse land is a plot of virtual real estate represented by a non-fungible token. Depending on the platform, the owner can use their land for socializing, advertising, work, gaming, and other use cases.
You can buy NFT metaverse land through the land sale of a project or using an NFT marketplace to buy directly from landowners. You will need a digital wallet and crypto to purchase the land. Land can also be sold to other users on various platforms, and there will be renting mechanisms available in the future.
When buying your NFT land, always purchase it from a project in a land sale or securely on the secondary market via a trusted NFT exchange. Make sure you fully understand the land's associated project and consider the financial risk involved.
Introduction
The metaverse has become increasingly popular with tech fans, investors, and crypto enthusiasts. The demand for virtual land in the 3D digital world has grown hugely, and the market has similarities with real-world real estate. Purchasing and selling metaverse NFT land is a fairly simple process that you can easily follow with our guide.
What is virtual NFT metaverse land?
NFT land is a purchasable plot of digital space in a metaverse project. The Non-Fungible Token (NFT) owner can use the land for various purposes or purely for speculation. Typically, a metaverse project divides its map into smaller areas and sells them in a single or multiple land offerings. The payments are usually made in cryptocurrency, but some projects also accept fiat.
Once purchased, the space normally offers a 3D virtual experience for the owner and visitors to explore. Because the lands are NFTs, it's easy to prove authenticity and ownership over these digital assets. The owner can sell their land on the secondary market with a third-party exchange or through the metaverse project ecosystem.
What are the use cases of NFT virtual land?
While some investors might simply speculate, other buyers may want to use the land for its intended purpose. The project you choose will affect exactly what you can do with your land. It's common for spaces to host events, conferences, and even rent advertising space if the land gets enough traffic. Some companies, including PwC, have also implemented their land into their offered services. If you have purchased land from an NFT game, it's likely that you'll receive in-game benefits from the plot.
How to buy land in the metaverse
Buying NFT land follows the same process as purchasing any other NFT. All you need is a wallet and some cryptocurrency to get started. As with any investment, make sure to do your own research before taking risks.
Step 1: Choose a metaverse platform
Before buying metaverse property, you need to pick a metaverse platform. Your reasons for buying the land will affect your chosen project, which we will cover later in our tips section. We'll use The Sandbox on Ethereum as an example for this tutorial, but Decentraland is another popular option.
Step 2: Set up your wallet
You'll need to create a wallet that will give you access to the cryptocurrencies you own. You can use either a mobile or browser-based wallet, depending on your preference. Using a browser-based wallet, however, will typically run into fewer problems.
MetaMask or Binance Chain Wallet are both suitable options as they support multiple blockchains but always double-check the wallet you use supports the NFT land's blockchain.
When you set up your wallet, you'll receive a string of words known as your seed phrase. Keep it in a safe place, as this is how you'll be able to recover your wallet if you lose access. You're best off storing it somewhere that is always offline.
Step 3: Connect your wallet to the Sandbox marketplace
On The Sandbox's map, you can see plots of land available to bid on. Some of these you can do directly through The Sandbox marketplace, while others are hosted on external exchanges like OpenSea. Let's look at one we can bid on through The SandBox to keep it simple.
Before you can bid on anything, you need to connect your wallet. On The Sandbox map, click [Sign In] in the top right corner. Make sure your wallet is also set to the correct blockchain as the project, in this case, Ethereum.
Next, click [MetaMask].
MetaMask will display a pop-up asking you to connect. Click [Next].
Click the [Connect] button to continue connecting your wallet.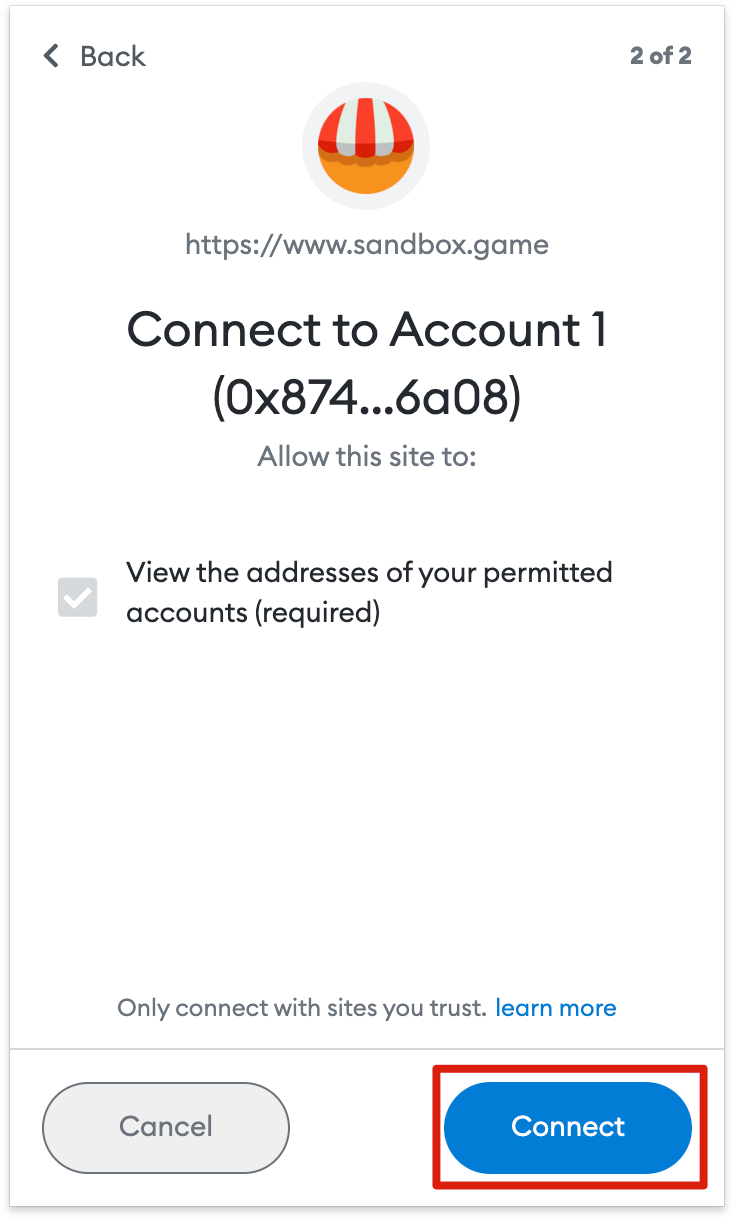 The Sandbox will now ask you to add an email address and create a nickname. Click [Continue] to finish setting up your account. You can also voluntarily provide a password if you would like to use the SandBox editor.
Click [Sign] on the MetaMask signature request to complete your account.
Once you're successfully connected, you'll see your account balance and profile picture in the top right of the website.
Step 4: Buy SAND or ETH on Binance and transfer it to your wallet
To purchase or bid on land, you'll need either SAND or Ether (ETH) in your wallet. Buying ETH will likely be more useful as most The Sandbox land sales only accept ETH. You can purchase SAND or ETH via a credit or debit card with your Binance account. For more information on doing this, see our How to Buy Cryptocurrency guide.
Once you've purchased your crypto, you'll need to transfer it to your crypto wallet. Copy the public address from your crypto wallet and use this as your withdrawal address. Follow our How to Withdraw from Binance guide for exact steps.
Step 5: Select a parcel of LAND
You can easily sort through available land to bid on or purchase in The Sandbox with the filters below. Most The Sandbox land has already been purchased, meaning that you will usually only find land available on OpenSea. However, you can still bid on these sales through The Sandbox map. The SandBox map is also the best way to verify that you purchase a legitimate NFT plot, as OpenSea links are embedded in the UI.
After finding some land you want to purchase, you can click either the [Bid] button to place an offer or buy it for a fixed price by clicking the ETH amount. Let's look at making an offer by clicking [Bid].
You'll now see a pop-up that will allow you to make an offer. Input the bid amount and click [Place Bid] before confirming the transaction with your wallet. If the seller rejects your bid or the sale ends, the crypto will be returned back to your wallet.
If you click on the fixed price, you'll be taken to OpenSea to complete the transaction. You'll need to connect your wallet to the marketplace before you can purchase the land. You can also use OpenSea to make an offer if you don't want to do it through The Sandbox.
How to sell land in the metaverse
There are usually two options when selling your NFT Land. You can either sell it via the metaverse project's marketplace or on a secondary marketplace. With The Sandbox, only third-party marketplaces can currently be used for sales. In the future, landowners will be able to sell directly via The Sandbox for a 5% transaction fee in SAND. 
If you want to sell your land on OpenSea, simply go to your profile and click the [Sell] button on your NFT. You'll then be able to create a fixed price or timed auction.
How to rent land in the metaverse
Some projects, like The Sandbox, will offer the chance for landowners to rent their land to third parties. However, there is no official system in place for doing this. If you decide to rent the land to someone, you will need to come to a private arrangement, making the process fairly risky. When renting, you should never transfer ownership of your NFT to the renter. It's safer to wait for an official, secure renting system to be launched.
Tips before buying NFT virtual land
You should always follow best practices when investing in NFT land, just like you would with any other investment. Make sure to use the official project link to buy your NFT land or choose a reputable third-party marketplace. Before buying, carefully research the platform you're investing in and check its fundamentals. And don't forget, buying isn't the only option, you may possibly be able to rent some land in the future if you need it for a specific purpose.
Closing thoughts
The digital real estate ecosystem has become massively popular in the cryptocurrency world. As you can see, it's relatively easy to buy and sell land. However, current prices sometimes make it more expensive than an actual physical real estate investment. If you do purchase NFT metaverse land, make sure to consider the risks and follow safe crypto practices.