TL;DR
Choosing a crypto wallet depends on your needs. Security, custodianship, and interacting with smart contracts are key points to consider. You also may want to access your wallet on different devices.
For browser extension wallets, MetaMask, MathWallet, and Binance Wallet are good options. If you prefer a mobile experience, MetaMask, MathWallet, Trust Wallet and SafePal are available for iOS and Android. They're decentralized and store your private key on your device. SafePal also offers a cold storage hardware wallet for anyone looking for the highest security. Apart from the hardware version, all crypto wallets mentioned are free to use.
Introduction
BNB Smart Chain (BSC) is relatively new, so not all wallets currently support BEP-20 tokens. When you find a BSC supporting wallet, there are a few types and options to choose from. Custodianship, security, and usability are important to consider, and everyone has their top priorities. The five wallets below all differ slightly, so your best bet is to try them and see what you prefer.
What type of crypto wallet should I use?
Before you choose a specific wallet, think about what you need. There's more than just one type of wallet out there. Most BSC wallets will be non-custodial, meaning you have control of your private key. BSC wallets are also typically hot wallets that allow you to quickly connect to DApps or start staking. Each type has its advantages and disadvantages.
1. Custodial - The wallet provider holds your private key. This is the case with your digital assets in an exchange's wallet. Without owning your private key, you aren't entirely in control of your wallet. Likely, you won't be able to connect to DApps either. For example, if you only want to spot trade BSC tokens and other cryptoassets, a custodial wallet is a reasonable choice. But be careful. While this is safe to do on Binance, you should not trust your funds to any custodial wallet or exchange. 
2. Non-custodial - You own your private keys. It's the safest option for most traders and investors, as long as they take good care of their keys and seed phrases. The wallets we'll cover later are all non-custodial options that allow you to interact with DApps.
3. Hot wallets - These crypto wallets are connected to the internet and are typically non-custodial (unless you're using a centralized exchange). Hot wallets are convenient for making transactions but come with some security risks. Your private key is held online with your public key and is usually accessible with a user-set password. Like any password-protected service, you could be hacked or phished. To mitigate the risks, you should also use two-factor authentication (2FA) methods.
4. Cold wallet - You store your private key offline on specialized hardware. This option is the most secure way to hold your BSC tokens, but it's often the most impractical method for making transactions and interacting with DApps.
You can easily use a combination of the above to combine their strengths. However, for day-to-day transactions and DeFi applications, a non-custodial hot wallet is a robust and flexible option. Let's take a look at some of the most popular options.
MetaMask
MetaMask is a browser extension and mobile app crypto wallet supporting BSC and other blockchains, including Ethereum, Polygon, and BNB Chain. MetaMask was developed in 2016 by ConsenSys, a prominent blockchain company. For many years, MetaMask only offered their extension, which is why it's still their most popular product. 
The MetaMask browser extension allows you to make transactions and interact with smart contracts and DApps.
MetaMask also lets you connect to different blockchain networks (you can add custom mainnets). It also allows you to sign transactions, manage your public and private keys, and offers a Swaps service that provides the best prices from multiple Decentralized Exchanges (DEXs). MetaMask is a popular choice with BSC users for its simplicity and ease of use.
Binance Wallet 
Binance Wallet is an official browser extension wallet from Binance. Currently, the wallet supports BNB Beacon Chain, BSC, and Ethereum. Compared to the other wallets covered, Binance Wallet is one of the most basic. If you mainly hold crypto on the Binance exchange but occasionally use DApps, its Wallet Direct feature may be helpful.
By connecting your Binance account with Binance Wallet, you can transfer crypto-assets like Binance Coin (BNB) or ETH between the two without manually inputting addresses. If you're interested, check out How to Use Binance Wallet.
Trust Wallet
Trust Wallet is an open-source mobile wallet app available for iOS and Android. It's also Binance's official decentralized wallet and supports the leading Ethereum ecosystem blockchains, BSC, BNB Beacon Chain, and more. You also have full access to your private keys through a seed phrase. The app has some extra built-in functionalities, including purchasing crypto with a credit or debit card and a non-fungible token (NFT) wallet. The Android version also has a browser for DApps.
Trust Wallet has a utility and governance token, TWT. By holding the token, you can participate in decision-making, such as adding new blockchain support and integrating new tokens. You can also get discounts on the DEX and crypto purchases with TWT.
If you decide to try Trust Wallet, use our Connecting Trust Wallet to BNB Smart Chain (BSC) tutorial to get started.
MathWallet
MathWallet offers a cryptocurrency wallet browser extension, a web-based wallet, and a mobile app for iOS and Android devices. It supports almost 40 different blockchains and was one of the first to support BSC. Founded by MATH Global Foundation in 2017, the foundation has raised $12 million in a Series B funding round led by Binance Labs.
If you want to use the same wallet across multiple devices, MathWallet offers a lot of flexibility. It's easy to move between your mobile device, browser extension, and web-based wallet, depending on your needs.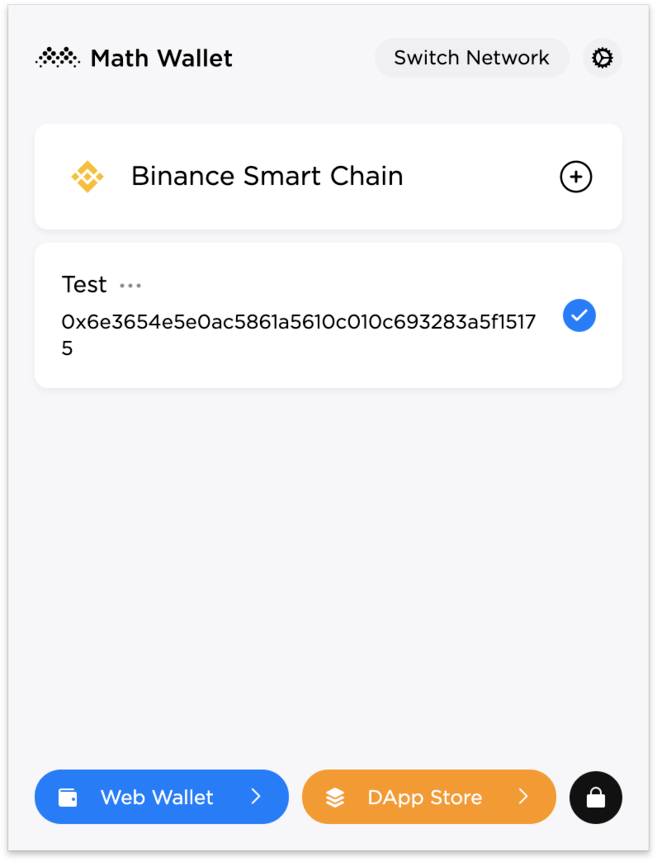 SafePal
SafePal is a hardware wallet provider that also has a decentralized mobile wallet app. Its functionality is similar to Trust Wallet with the addition of a Decentralized Finance (DeFi) section. This section has links to already popular DeFi platforms and DApps, as well as a browser. If you want to access DApps without switching apps on your device, SafePal is a suitable option for both iOS and Android. The project also has a utility token SFP used for discounts and bonuses.
SafePal S1 Hardware Wallet
The SafePal S1 hardware wallet is a more affordable option compared to a Trezor device or Ledger Nano. If you want to store your BSC tokens offline, it offers more security than any hot wallet so long as you keep your device safe. However, to use DApps, you'll have to transfer your tokens to your SafePal hot wallet.
Closing thoughts
Having a wallet that is trustworthy and stable should be a priority for all crypto holders. The five wallets mentioned here are trusted in the blockchain community and have millions of BSC users globally. The selection is much smaller when it comes to BSC, but the key points are the same: DApp interaction, custodianship, usability, and reliability. This all depends on your user profile too.
For an active trader, a non-custodial hot wallet will be the quickest way to trade and also stay secure. DeFi farmers will appreciate the usefulness of a browser-extension wallet for greater control connecting to DApps via a desktop. If you're just HODLing, then a simple mobile experience might be a good fit.
The BSC wallets we've recommended are free to use apart from the hardware option. You can make a choice depending on the level of security you need and making sure your wallet works reliably. Most importantly, if you have your private keys, keep them safe and secure.