TL;DR
Binance's NFT Marketplace is a new platform for creators and collectors to mint and trade NFTs. Everyone can now create non-fungible tokens and experience the benefits of unique, digital ownership rights. All it takes is a few minutes of your time, a small fee, and something you feel is worth minting.
Introduction
If one thing is for sure, the popularity of non-fungible tokens (NFTs) and their adoption has matured massively over the past year. For the first time, mainstream artists have picked up the topic, and the public realizes they can also participate.
Binance has launched its new NFT Marketplace to help creatives mint and sell their works of art. Collectors can also import tokens from other exchanges and resell them. 
Before NFTs, content creators previously had no straightforward way of proving digital authenticity and ownership. Now both collectors and creatives can easily prove the genuineness of their token. Whether it's the first release of a song or a rare sports trading card, NFTs disrupt the way we deal with collectible goods.
---
Ready to jump into NFTs?

---
What is the Binance NFT Marketplace?
The Binance NFT Marketplace is a platform that allows you to trade and create non-fungible tokens. You can mint your own NFTs on both BNB Smart Chain and Ethereum and even transfer between the two blockchains. It's not just about creators either. Collectors can buy NFTs from its inbuilt marketplace for a fixed price or through auctions.
When you sell the collectible on the marketplace, the creator receives a 1% royalty payment. Binance processes these royalties to creators who have minted their NFTs on other platforms too. Depositors also receive a 1% royalty whenever users purchase their deposited NFTs.
What makes the Binance NFT Marketplace different?
There are already a lot of marketplaces out there that allow you to mint your own NFTs. Not every marketplace can, however, tap into an already existing community as big as Binance's. The Binance NFT Marketplace leverages the Binance ecosystem. The marketplace won't just have creations from users but also big-name artists as well. 
When it comes to selling or auctioning your NFTs, it's simple to tap into Binance's large user base and get the best price and value for your artwork. This pre-existing userbase is also great for liquidity too and the visibility of your NFTs.
Why create NFTs?
If you're an artist, musician, or content creator, an NFT allows you to sell your works in a limited, digital format. The NFT is impossible to duplicate and unique, unlike a simple MP3 or JPEG. While your NFT will have an associated file that people can copy, the NFT is more about representing ownership. Owning an original painting is much more valuable than an identical print. NFTs simply let you replicate this concept in a digital format.
There is also a massive, growing market for NFTs, making it an excellent method for selling creations. Their functionality keeps growing too, with royalties, joint transfer rights, and collections all available options.
Overall, NFTs offer accessibility in creating, buying, and sharing collectibles. After paying a reasonably small minting fee, your asset is available for the whole world to browse and purchase.
Why are people collecting NFTs?
There are a few reasons why there has been massive interest in owning NFTs. First of all, there is the collectible element. Like stamps, trading cards, or vinyl records, the limited nature of non-fungible tokens makes them attractive to collectors. There are musicians, artists, sports stars, and big brands all minting NFTs. These tokens now add a digital side to collecting for fans.
Collectors are also interested in the possible worth of NFTs. Some purchasers have spent millions of dollars on rare NFTs. These prices interest speculators worldwide who are looking to cash in on the next biggest collectible. Some NFTs also give benefits to their holders. An NFT from BakerySwap, for example, can help improve the returns you get from staking. PancakeSwap has NFTs that can be traded in for the token CAKE and even used as lottery tickets.
How are NFTs disrupting the world?
Rights and ownership have been challenging problems to solve when it comes to the digital world. Just how do you prove if something is original if we can all easily copy and paste the content? So far, there hasn't been much for creators to do. 
NFTs, however, do provide a way of showing verifiable digital ownership. We can see exactly who owns an NFT and its past purchase history. For the first time, artists can sell their works in a purely digital form and with an element of collectibility. There also aren't many industries where you can sell your artwork in the same space as huge celebrities like Aphex Twin or Grimes.
How to create your own NFT
One of the most exciting features for creators on the Binance NFT marketplace is minting non-fungible tokens. At first, only certain creators will have access to this feature, but it will be open to all users soon. Although other platforms let you create NFTs, Binance is the largest crypto exchange allowing you to quickly mint non-fungible tokens.
Within five minutes, you can have your collectibles live and ready to trade. You can also deposit and withdraw the tokens to a compatible wallet or another exchange.
Creating a Binance account and getting some crypto
Before you can start creating, buying, or selling NFTs on Binance NFT Marketplace, you'll need to open a Binance account. If you already have an account for trading crypto with Binance, there's no need to open a new one.
You'll also need some cryptocurrency (BNB or BUSD) if you want to create or purchase NFTs. For more details on how to add some crypto to your Binance spot wallet, check out our Binance Beginner's Guide.
Minting an NFT
Begin by clicking on the [Create] from the Binance NFT Marketplace homepage.
After uploading the image, video, audio, or file you want to turn into an NFT, you can start filling in your non-fungible token's details. This information also includes choosing to mint a single NFT or a collection. Make sure you have enough BNB for the fee and click [Create].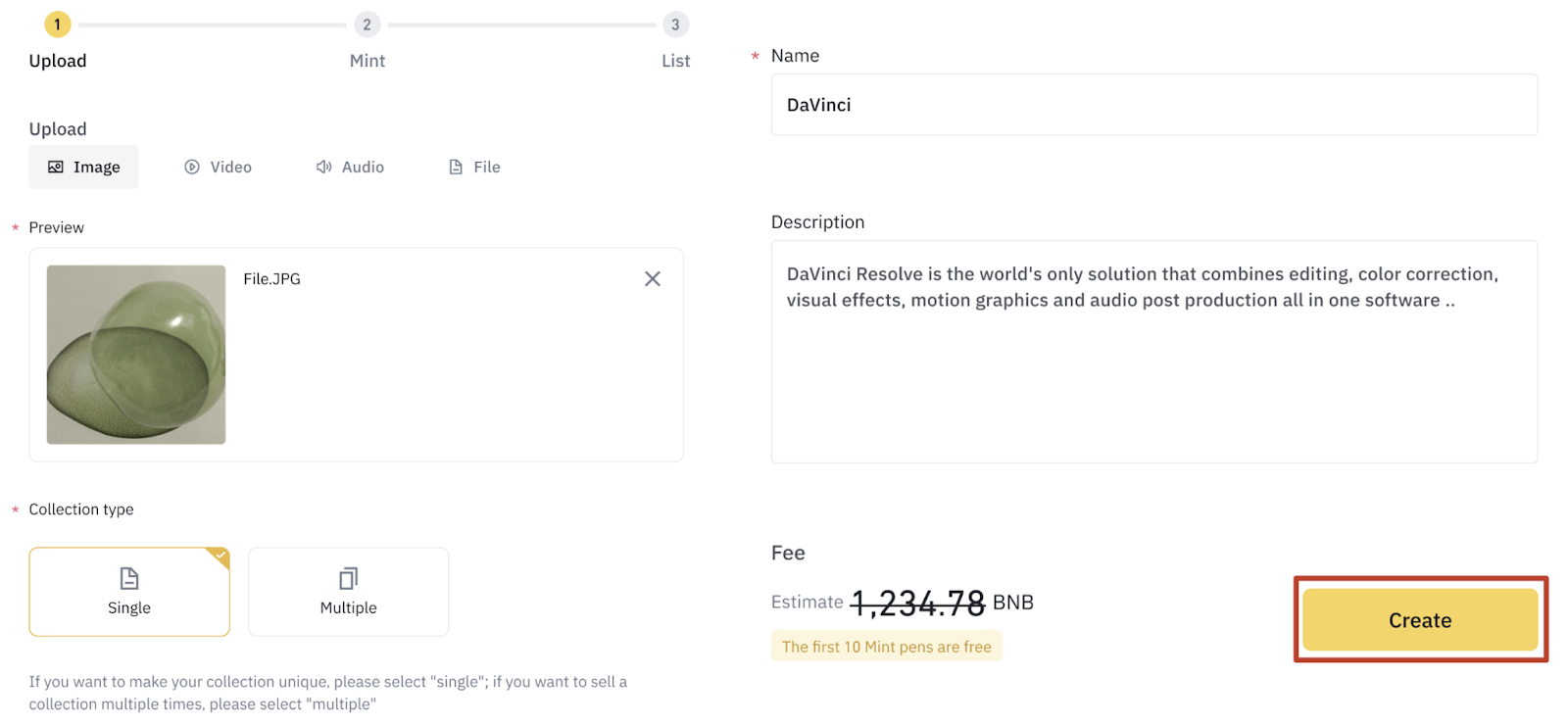 ---
Want to make an NFT masterpiece?
---
How to buy an NFT
Once you've found an NFT you'd like to purchase, click its name to head to its specific page. Here you will find more details on the NFT, including a description, the type of sale, price, and other important information.
If you have selected an Auction sale, you will need to make a bid. The user with the highest bid at the auction's end will win the NFT. Click [Place a Bid] to head to the next screen.
A pop-up should appear where you can input your bid. Your bid must be higher than the previous by at least the minimum markup. When you're happy with the amount, click [Place a Bid] to confirm.
To purchase a Fixed Price item, click either the [Buy Now] button to buy the NFT immediately or attempt to purchase the NFT for a lower price with the [Make an Offer] button. The seller can choose to accept or decline the offer you make.
How to sell an NFT
Initially, this feature will only be available to selected artists, but it will be enabled to all users soon.
Once you have created an NFT, you can either store it in your collection or start the listing process straight away. You can also sell an NFT you have deposited into your account or purchased. There are two possible options for selling your NFTs: Auction or Fixed Price. 
To sell an NFT, head to your [Collections] and click the NFT you want to list. Click the [List NFT] button to customize your sale.
For an Auction sale, choose [Highest Bid]. In the [Minimum Bid] field, you can input the starting price for your listing. If you would like to have an instant sale without bidding, select [Set Price]. 
You will then see a [Price] field where you can choose how much you want to sell the NFT for. Both of these options also let you choose what cryptocurrency you would like to receive as payment.
You should also choose an end date for your sale. This date can be a maximum of 30 days from the time of listing. Make sure to put an accurate description of NFT, including any other benefits, traits, or utility it might have. Think carefully about the category it's in, as this will help buyers find your listing easier.
Once you're happy with the terms of your listing, click [Submit].
The Binance team will review your NFT to ensure it meets our standards before listing. Expect this to take around 4-8 hours and receive an email or SMS once completed. You can either choose a specific time for your listing to go live (at least 12 hours after you submit your listing request) or allow Binance to list your NFT immediately after approval. 
If the review's completion time exceeds your expected listing time, we will list your NFT immediately after we finish our review.
What's a Mystery box?
A Mystery Box provides the chance to receive a random NFT from a collection. Each NFT has a different level of rarity: normal (N), rare (R), super rare (SR), and super super rare (SSR). Once you've bought the Mystery Box, you don't have to open it straight away. You can open it whenever you want or even trade it without opening.
A Mystery Box sells for a fixed price, so all you need to do is select the quantity to purchase. Underneath the item's description, you'll also find the probability of the different NFTs you could receive.
Once you've bought a Mystery Box, you cannot return it. You can, however, sell it by listing it on the NFT Marketplace.
What are Events?
The Events category on the Binance NFT Marketplace contains exclusive and premium NFTs created by big-name creators and brands. These offerings are from digital artists, musicians, and even athletes and celebrities. You can access the [Events] page from the homepage, where the event will be listed on the homepage banner.
---
Feeling inspired by NFTs?
---
Closing thoughts
There's a great opportunity now for anyone interested in NFTs to start getting involved themself. For a long time, it's been challenging to choose the right platform or marketplace to use. The whole ecosystem is fragmented and can be challenging to navigate for beginners. Now that Binance offers its own NFT Marketplace, it's much simpler for creatives and collectors to stick with a trusted and well-known player in the crypto scene. It's a great time for artists to finally be able to distribute their works in a collectible, digital form.