TL;DR
MetaMask is a cryptocurrency wallet that can be downloaded on Chrome and Firefox as a browser extension or as an App on iOS and Android devices. It allows users to store and transact crypto through a simple interface. 
MetaMask enables users to interact with DeFi ecosystems on Ethereum and other blockchain networks, such as BNB Smart Chain, Polygon, and Avalanche. This guide will teach you how to connect your MetaMask to the Avalanche network.
If you are already using the Avalanche network, note that only the C-Chain wallet is compatible with MetaMask. So to transfer AVAX from your Avalanche wallet, your tokens need to be in your C-Chain wallet. You can also transfer your AVAX to MetaMask from an exchange wallet that has integrated C-Chain, such as Binance.
Introduction
To interact with the Avalanche blockchain and DApps, you need a compatible cryptocurrency wallet, such as MetaMask. But before you can use Avalanche tokens on MetaMask, you need to add the Avalanche network to your wallet. This guide will show you how to do it.
How to set up MetaMask?
If you already have a MetaMask wallet, jump to the next section to see how to connect your wallet to Avalanche and add AVAX tokens. If you don't have a MetaMask wallet yet, follow these steps to set it up.
1. Download and install the MetaMask extension on Chrome, iOS, or Android through the official MetaMask website. Make sure you are using the official website before downloading the extension.
2. You should see the MetaMask fox on the welcome screen after installation. Click [Get Started].
3. Click [Create a Wallet] to create your MetaMask wallet, or click [Import wallet] to import an old wallet using your seed phrase.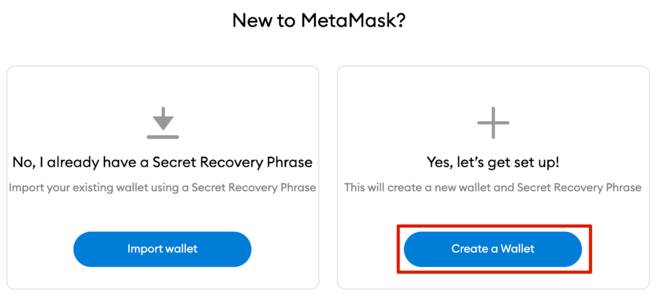 4. You'll be asked whether you want to share anonymous usage data with MetaMask to help them improve the extension. Regardless of your choice, this won't affect your MetaMask usage.
5. Now create a secure password for your wallet.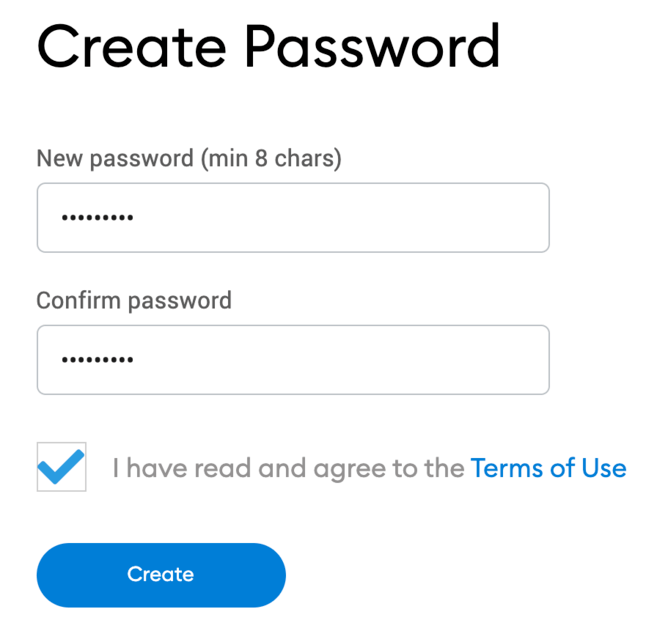 6. Before getting started, you need to backup your wallet's seed phrase. This is what allows you to restore your wallet if you lose access to your device or forget your password. If you aren't familiar with how a crypto wallet works, make sure to watch the video and read the information. When you are ready, click [Next].
7. Next, you will receive your seed phrase. Click to reveal the words and write them down in the correct order. You should keep your seed phrase in a few secure offline locations and never share it with anyone.
8. To make sure you've backed up the seed phrase correctly, you need to repeat it by selecting the words at the bottom in the right order. Click [Confirm] to proceed.
9. Your MetaMask wallet is now ready to use. Click [All Done] to go to your wallet.
10. You can pin your MetaMask wallet to your Chrome browser for easy access. Click the puzzle icon and then the pin icon next to [MetaMask] to pin it to the toolbar.
How to connect Avalanche to MetaMask?
By default, the MetaMask wallet is connected to the Ethereum mainnet. To add Avalanche to your wallet, you need to add its network details to the extension.
1. Open your wallet extension and click the network dropdown menu.
2. Click [Add Network].
3. You'll be redirected to the [Add a network] page. Copy and paste the following details and click [Save].
4. Your MetaMask wallet is now connected to the Avalanche network.
How to send AVAX tokens to MetaMask?
After connecting the Avalanche network, you can now send your Avalanche tokens (AVAX) from another Avalanche wallet to MetaMask.
There are 3 blockchains on the Avalanche network: the Exchange Chain (X-Chain), the Contract Chain (C-Chain), and the Platform Chain (P-Chain). 
Note that only the C-Chain is compatible with MetaMask, meaning that you can only use the C-Chain to transfer AVAX to your MetaMask wallet. Be careful! If you select the wrong chain, you might lose your tokens.
1. Log in to your Avalanche wallet and check where your AVAX tokens are from the [Balance] box on the top.
If your AVAX tokens are in your X-Chain wallet, you need to transfer them to your C-Chain wallet before you can send them to MetaMask.
1.1. Click [Cross Chain] on the left menu bar.
1.2. Select [C Chain] as the destination chain. Then, enter the amount you wish to transfer from your X-Chain wallet and click [Confirm]. Note that you'll need to pay a small transaction fee.
2. Now go to [Send] from the left menu bar. 
3. Select [C] as the source chain. Enter the amount you want to send to MetaMask.
4. Now go to your MetaMask wallet and copy the address.
5. Go back to your Avalanche wallet, find the [To Address] field, and paste the MetaMask wallet address. Check the gas fee and click [Confirm] to transfer. As soon as the transaction is confirmed, you will see the AVAX in your MetaMask wallet.
How to send AVAX tokens to MetaMask from Binance?
You can also send AVAX from the Binance exchange to MetaMask.
1. Log in to your Binance account and go to [Wallet Overview]. Click [Withdraw].
2. Select [AVAX].
3. Go to your MetaMask wallet and copy the address.
4. Now go back to Binance and paste the MetaMask address in the [Address] field. Then, select the network and enter the transfer amount. Make sure you select a compatible network or your assets might be lost. Click [Withdraw] to proceed.
5. You need to confirm that you understand the potential risks associated with assets withdrawals before proceeding. Read and check the box before you click [Confirm].
6. You'll see a pop-up window with your withdrawal details. You should check the details carefully before continuing.
7. Next, you'll be asked to verify your transfer with 2FA devices. Click [Submit] and your AVAX will be sent to your MetaMask wallet.
Closing thoughts
While MetaMask was initially built for Ethereum, you can now use it across multiple blockchain networks, including Avalanche, BNB Smart Chain, Polygon, and others. Learning how to add each network manually will allow you to explore the various DeFi platforms and DApps of each blockchain ecosystem, such as PancakeSwap, Uniswap, SushiSwap, and OpenSea.